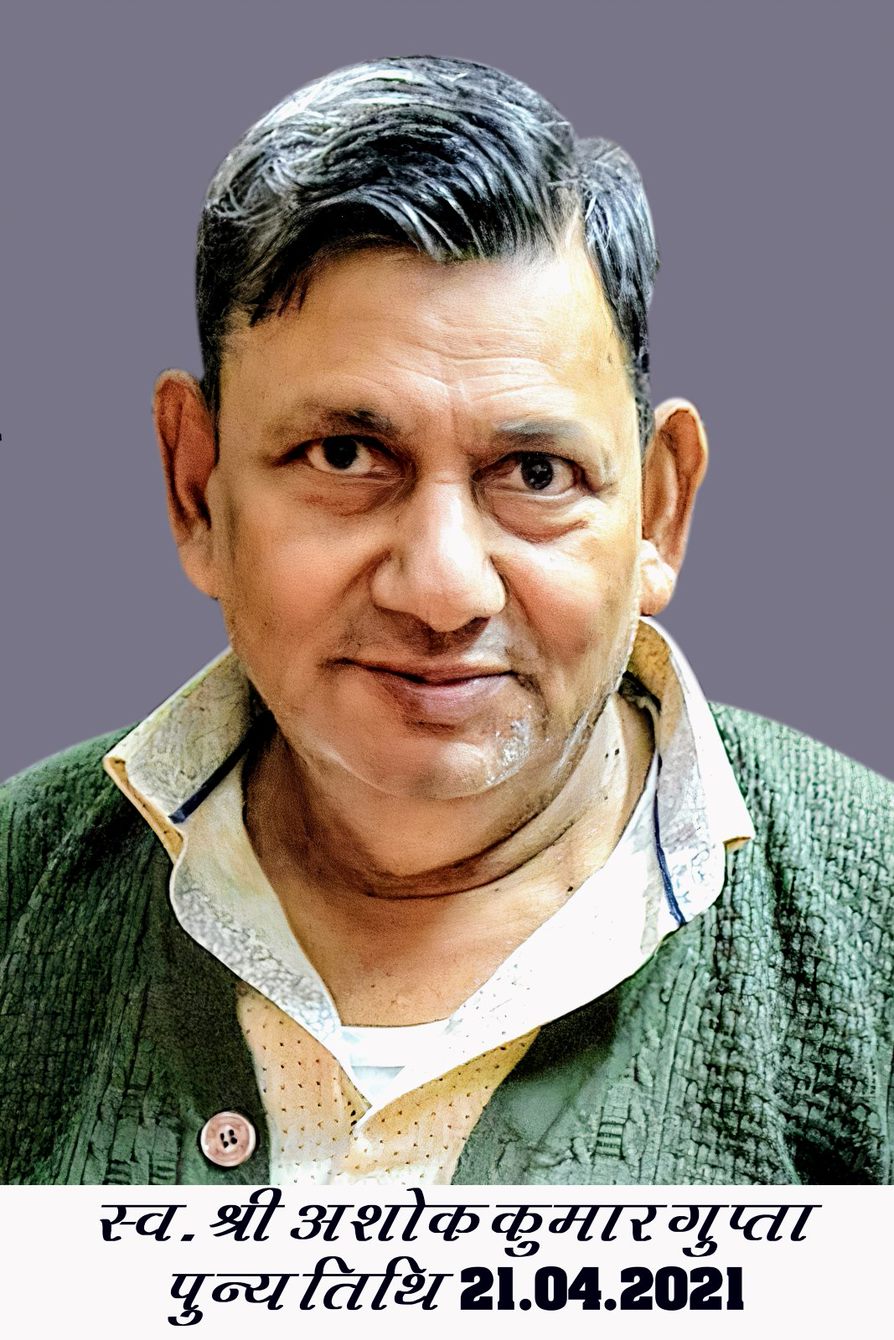 Mr. Ashok Gupta was born on July 25th, 1956, in Khekhra Village, Uttar Pradesh, India, to the late Mrs. Ramwati Devi and late Mr. Suresh Chand Gupta. He married his wife Sudha Gupta on July 12th, 1979, and they raised three children, including son Vipin Gupta, daughter Anjali Gupta, and son Deepak Gupta. As a religious person, he worshipped Hindu Gods every day and followed the doctrines of samsara (the continuous cycle of life, death, and reincarnation) and karma (the universal law of cause and effect) through his whole life.
Mr. Gupta completed high school at Jain Inter College in 1973 and received his Bachelor of Arts Degree in 1975 from Meerut University. He went on to receive his Master of Economics Degree in 1977 from Meerut University and Bachelor of Education Degree in 1979 from University of Rajasthan. He became a teacher in a public school in Delhi, India, first as a middle school teacher and then as a high school teacher. After more than 30 years of service as a school teacher, he retired on July 31st, 2015, in Delhi.
With hard work and perseverance, Mr. Gupta gave his wife and children a good middle-class life in Delhi, even on a single salary as a school teacher! He did everything in his capacity to save money for his family, especially to ensure that his children were able to pursue higher education without financial limitations. As his son Dr. Deepak Gupta notes, it was only because of his father's inspirational life path and support that he was able to pursue a career in medicine.
Mr. Gupta was diagnosed with Parkinson's disease (PD) at a relatively young age of 53 in March 2008, when his son Deepak was finishing medical school. During the first six years of living with PD, Mr. Gupta experienced motor symptoms without tremor, which responded well to dopaminergic medications. He then developed motor fluctuations and dyskinesia, which were treated with Deep Brain Stimulation (DBS) surgery in 2016. Unfortunately, PD continued to progress for him over the next five years, especially with the emergence of significant non-motor symptoms. A few weeks before he and his wife were scheduled to visit their son Deepak in the US for the first time, Mr. Gupta's health began to decline abruptly from possible COVID-19 infection, and he passed away on April 21st, 2021, at the age of 64.
Mr. Gupta's wife Sudha Gupta, son Dr. Deepak Gupta and daughter-in-law Rashmi Gupta, and daughter Mrs. Anjali Gupta have established the Ashok Gupta Foundation for Parkinsonian Disorders and the Annual Ashok Gupta Memorial Lecture to honor his memory and carry forward the legacy of his life and his experiences of living with PD for 13 years.